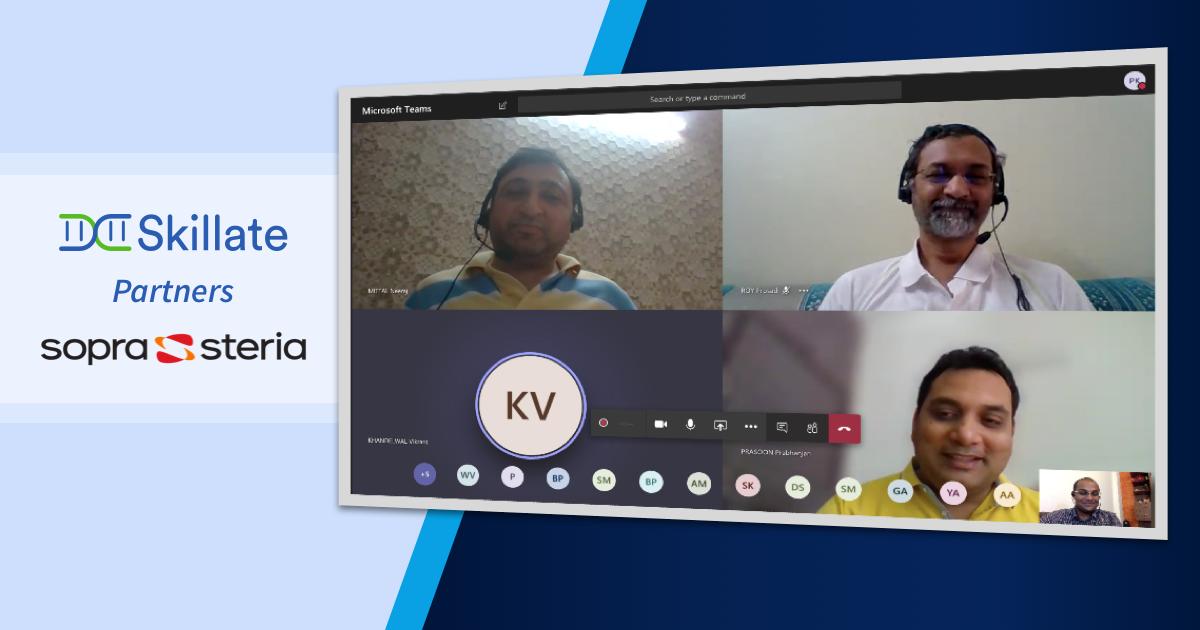 We at Sopra Steria India, have always believed in staying ahead of the curve. As business leaders, our outlook always has to be on the growth opportunities of the future as well as identifying possible threats.  Our leadership capabilities have never been tested like that of now. The current scenario with the pandemic is not only a natural threat to organizations but when dealt correctly and with suitable partners, this can also be an opportunity for the entire sector to change current norms.
Skillate has been one such partner for us. We did an extensive POC and testing of the AI capabilities of the Skillate product and believed in the potential of their solutions to transform the recruitment process.
However, even I was truly surprised to see the efficiency and the seamlessness with which Skillate implemented their solution for us even during these times of pandemic.
Sopra Steria India is already using Taleo as the ATS for the recruitment process. However, as any experienced professional of the HR industry will tell you, Taleo has its own limitations. Even though capable of solving end to end recruitment problems, the complexity of the system means that recruiters hardly use it the way it was meant to be.
In such conditions, we were looking for a cutting edge technological partner that can integrate with Taleo and fill the present gaps. We decided to start the complete implementation of Skillate solutions in the first week of March and even with lockdown and an unprecedented situation, we are up and running since the first week of April.
Here is how Sopra Steria and Skillate's partnership has panned out:
Integration with Taleo:
Skillate provided Sopra Steria with AI-backed solutions that integrated seamlessly with existing Taleo to make the recruitment processes more efficient.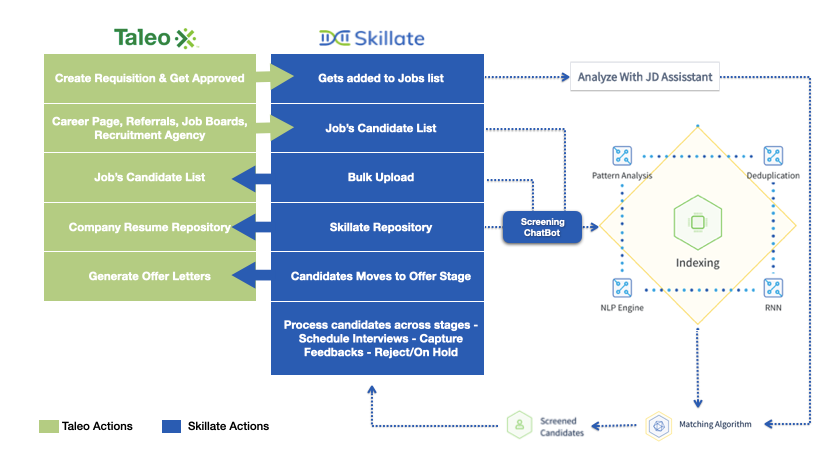 Onboarding:
Our recruiters were provided with unique login credentials with defined access rights, depending on their roles and responsibilities. The admin access rights were also shared with our SPOCS for the onboarding process.
Even though the Skillate dashboard is pretty straightforward to understand and use, our hiring managers were still given exclusive online training sessions. Skillate conducted these sessions across locations for ~200 hiring managers/business managers who would process the interviews and take candidate feedback. There were separate training sessions for the HR team who would be using the end-to-end product offerings from Skillate. Online guides and videos were posted to help every stakeholder use the platform more efficiently.

Demo:
Some of the important features of Skillate which were demonstrated during the training sessions are:
JD Assistant
Skillate's JD assistant gives real-time feedback to our recruiters on their JD and helps them in writing detailed job descriptions to attract the best candidates.
2. Talent Pool Search
The Skillate matching engine indexes the candidates who have applied to a particular job in the decreasing order of their relevance with AI-backed scores based on their skills, education, and experience. Our recruiters can customize filters depending on their priorities.

In case the recruiter does not find any suitable candidate from the applications received, they can search in their internal candidate pool with the unique 'All matching to this job' feature. The highly efficient engine takes 4 seconds to index 2.3 lakh resumes.
3. Chatbot
The AI-powered chatbot of Skillate automates the entire pre-screening conversation with the help of a bot. Some of the critical questions like Notice Period, Location Preference, Flexibility to work in shifts that are not there in resumes become very important for the recruiters to take the candidates forward. We observed that almost 60% of the candidates respond within 24 hours of receiving the chatbot screening request. This helped us in reducing the pre-screening time on call considerably.
4.  Interview Scheduling
Skillate Chatbot automatically converses with the hiring manager and the candidate to find common timings and blocks the calendar accordingly. The chatbot minimizes the back and forth of scheduling and rescheduling.
5.  Interview Feedback System
The interviewers were provided with role-based feedback forms that they can fill online after taking an interview. It comprises skill ratings and comments which can help recruiters take the next steps instantly. The feedback form also gives visibility to interviewers to see the previous round feedback of the candidate.
6. Reporting:
Skillate solutions used our existing data to provide key insights and detailed reports on our hiring pattern and provided us with analytics based on location, experience, education, past companies, and skills.
The increased transparency in the system meant that we could track all our recruiter's actions, including the time of usage, jobs assigned, and action on specific applications.
---
The Skillate team even introduced a bunch of new features on our request. Customizable analytics, absolute scoring of candidates, candidate feedback, and in-depth reports were just a few of them.
Skillate team's 24*7 availability for technical help means that any glitches are sorted out in hours.
The Skillate team worked with our HR and Tech teams from Noida, Bangalore, and Pune to complete every aspect of the implementation plan right from integrations & configurations to customizations & training successfully. Sopra Steria's partnership with Skillate is a true example of an enterprise embracing state-of-the-art technology to adapt and overcome modern challenges.